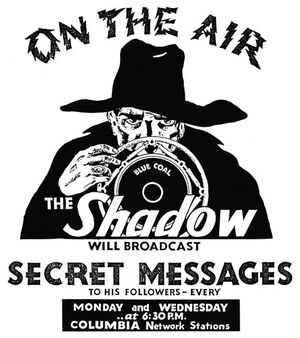 On July 31, 1930, the radio show, "The Detective Story Magazine Hour," began its weekly program of dramatizing a story from the current issue of Street & Smith's Detective Story Magazine.
Harry E. Chariot, a writer for the Judson Radio Program Corporation, created "The Shadow" as a radio narrator during the development of the mystery program. He and William Sweets adapted selected stories from the pages of the weekly mystery magazine which would be acted on the air.
The first person to voice "The Shadow" was James La Curto, but he was replaced by actor Frank Readick Jr. by October of 1930. That show was canceled after 52 episodes.
Other attempts of a Shadow program were aired with Readick narrating, such as "Blue Coal Mystery Revue, as well as this 1934 CBS series. It aired twice a week, every Monday and Wednesday. However, it too was dropped from the airwaves after 52 episodes.
On September 26, 1937, Street & Smith gave The Shadow a central role, and a long-time radio residence, on the Mutual Broadcasting System network. The first show, starring Orson Welles, was titled "Death House Rescue." The last radio program had Bret Morrison portraying the mysterious sleuth. It was titled "Murder by the Sea," and aired on December 26, 1954.

Previous "Shadow" radio series: The Shadow Radio Show (1932) ("Perfect-O-Lite")
Next "Shadow" radio series: The Shadow Radio Show (1937-1954) (Mutual Broadcasting System)
The Shadow Radio Show (1934 - 1935) episodes (no audio files):

[

edit

|

edit source

]
Season 1: (October 1, 1934 - March 27, 1935)
Episode 47: The Mystery of the Mountain Pass — March 11, 1935 (original story by ____________)
Community content is available under
CC-BY-SA
unless otherwise noted.