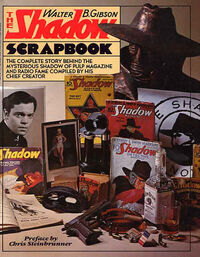 Though The Shadow was created in 1930, books discussing his history in the pulps and radio didn't appear until the 1970s. Perhaps this was due to his earlier stories being reprinted in the Bantam Books and Pyramid Books series. The decade saw a resurgence for the hero. Comic books, LPs and cassettes of his old time radio episodes reintroduced the crime fighter to a new generation.
Frank Eisgruber's slim volume, Gangland's Doom: The Shadow of the Pulps, was published in 1974 and is usually credited as being the first book to ever examine the history of the pulp hero. Soon after, several pulp and OTR fanzines appeared, many of them publishing at least one "Shadow Special Issue."
This page serves to clarify the different books, magazines and fanzines which feature articles about The Shadow.
Books About The Shadow:
[
]
Old Time Radio Fanzines Featuring The Shadow:
[
]
Fanzines Featuring The Shadow:
[
]