Error: Image is invalid or non-existent.
Bill Sienkiewicz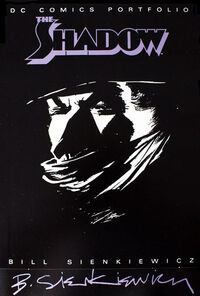 Real Name
Bill Sienkiewicz
Biography:
First "Shadow" publication
Place of Birth
Blakely , Pennsylvania , United States of America
Date of Birth
May 3, 1958
Professional History
Bill Sienkiewicz is an artist who is best known utilizing oil painting, collage, mimeograph and other forms generally uncommon in the comic book industry. For DC Comics, he illustrated the first six issues of their third volume of The Shadow. He also produced the Bill Sienkiewicz Shadow Portfolio, which included six prints from the covers of his Shadow series.
Work History
Images Attributed to Bill Sienkiewicz
Notes
Trivia
See Also
Official Website
Links and References