Error: Image is invalid or non-existent.
The Shadow's autogyro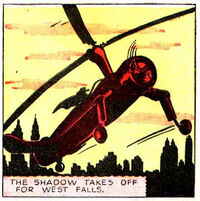 Official Name
The Shadow's autogyro
Creators
Walter B, Gibson
History
The Shadow's autogyro is a wingless aeroplane. Similar to a helicopter, it has rotating blades which propels it to fly and can land nearly vertically on rooftops or in other small areas.
The Shadow's agent, Miles Crofton, sometimes pilots the aircraft.


Capabilities
The autogyro can be flown from practically anywhere, needing almost no runway.
It has the ability to fly at low-speed and not stall.
See Also
Links and References